Altruism on Reddit: A Historical Analysis
Mostafa El Manzalawy
I. HISTORY
---
The Beginning
In June 2005, Alexis Ohanian and Steve Huffman came together to create Reddit. Both twenty-two year old college graduates from the University of Virginia, bored to death by the prospect of taking the LSAT, Ohanian and Huffman set out to "make a dent in the universe." [1]
"Steve and I really just wanted to perpetuate our college life. We really loved being able to eat pizza, drink beer and work on fun projects… and we thought let's try to do this by starting a company." [2] - Alexis Ohanian
During their senior year, the duo decided to pitch the idea of a mobile food delivery application they called "MyMobileMenu" to a venture capitalist by the name of Paul Graham, co-founder of the seed accelerator Y Combinator. "Seed accelerators" are typically for-profit venture capital firms that provide funding for innovative startup ideas. [3] Although Graham rejected their pitch the night of their interview, he called them up the following day with good news: "I'm sorry, we made a mistake. We don't like your idea, but we like you guys. You guys need to build the front page of the Internet." [1]
The idea was simple: create a website that people could visit to find the best content on the Internet. Content would be submitted by users in either link or text format, allowing for other users to "upvote" them as interesting, or "downvote" them as uninteresting.
"Simple: that's all it was. After a contentious debate, we added Comments. We knew our business was in our user base, that that was the most important part." [1] - Alexis Ohanian
Y Combinator provided $12,000 in funding and a 10% stake in the business in June of 2005, and within a span of three weeks, Reddit was born. [4]
---
Rise to Popularity
In order to get users to visit Reddit, the website had to be interesting. Since Reddit was based on user-submitted content, and at launch had no users, there was little incentive for people to submit links – since no one would see them. Therein lies the challenge for social media websites: they need users to participate in order to gain enough momentum to attract more users. Nobody wants to visit an empty site. So Ohanian and Huffman decided to fake that momentum. For the first couple of months after its launch, they created "tons of fake users" who were submitting interesting content to create the illusion of a steady user base. In a YouTube video posted in May 2012, Steve Huffman pointed out that this "inertia" did two things: (1) set the tone of Reddit, and (2) made the site feel alive. [5]
"You don't want to live in a ghost town, you want to live in New York City… I don't know what made us do this. I think at the time we were just embarrassed to have an empty website, so we submitted the content, and it worked… I remember the first day a few months in when we didn't have to submit any content, and that was such a magical day for us because we knew the site was working on its own. It was really cool. It took us a while to get there." [5] - Steve Huffman
They wanted to make it easy for users to submit content. Fewer decisions meant a smoother experience, so they decided against categorizations for links. Users were also allowed to submit content without having to provide their email address. Accounts could be created in seconds, circumventing the traditional email verification system, which they felt was yet another unnecessary barrier to entry. Equally important was the complete lack of censorship on Reddit. Users could submit whatever they wanted, totally anonymously, without having to deal with the cumbersome membership process adopted by similar websites. [5]
By October of 2006, Reddit was attracting over 700,000 page views per month. [6] The startup was a success. Reddit developed a name for itself as a hub for the best content on the Web. Its growth was exponential, and naturally, attracted investors from all around the tech industry. At a Halloween party in 2006, Ohanian met a reporter for Wired that set up a meeting with a business-development executive at Condé Nast (Wired's parent company), to discuss a possible acquisition.
"So we started talking money. Founders are supposed to be not at all interested in selling. But there is a price at which a founder can't help being interested." [1] - Alexis Ohanian
Reddit was sold to Condé Nast on October 31st, 2006 for an undisclosed amount [7] , although Ohanian mentioned it was "between $10 and $20 million" in an interview with Inc. Magazine in May 2012. [1]
"I've tithed since the day we sold Reddit, because I believe wealth is a means to an end, and wealth has never made me happy, only comfortable. And I want to stay hungry. I really believe my resources are best used to help projects that make the world suck less." [1] - Alexis Ohanian
---
Reddit Grows Up
In January 2008, Reddit announced in a blog post that they would be releasing a "handful of new features," among them "the ability for users to create their own Reddits." This is now commonly referred to as a "Subreddit," which are custom-made sections of Reddit created by users to suit their interests. A Subreddit can be public, restricted or private. Public Subreddits allow anyone to view, submit, comment or vote on content. Restricted subreddits allow for anyone to view content, but require member approval to submit, comment or vote. Private Subreddits function like restricted Subreddits, but require membership to view content. By this time, Reddit had created a handful of Subreddits for generic interests like programming, science and politics. This new functionality allowed for "Redditors" to create Subreddits for any interest, no matter how narrow. Subreddits were given sub-level domains within Reddit prefixed by an "r" followed by a forward slash in the following format: www.reddit.com/r/subreddit. [53] Today, there are over 194,000 subreddits ranging from general topics like r/socialism, r/humor, r/nyc to more niche interests such as r/beer or r/theoryofreddit. This flexibility gave users even more control over their Reddit experience, allowing them to not only create new communities, but to "subscribe" to the ones that interested them the most. If a user subscribed to a Subreddit, its newest and most upvoted content appeared on their front page, for a far more personalized user experience.
Five months later, in June 2008, Reddit was open sourced to the public under the Common Public Attribution License, or CPAL. [8] The license allows for the redistribution of Reddit's source code, as long as: (1) it is distributed with the CPAL restrictions attached for all of the original source code, (2) a form of attribution is displayed when the program is initially run which includes a copyright notice, graphic image and URL, and (3) the source-code must be available to all individuals and/or organizations that use the software over a network as to discourage the withholding of potentially valuable code from the public. [9]
"When we say 'open-source' we mean specifically that the code behind Reddit is available to the public for download, and we're inviting the public to submit code to help improve the site." [8] - Steve Huffman
Portions of the code having to do with anti-cheating and spam measures were left out, because it would otherwise reveal their (secret) algorithms that prevent abuse, rendering them useless. [8] About 95% of the code was made public. In a video [11] released with their official blog announcement, they stated their motivations for open sourcing were "(1) faster development," "(2) total transparency" and "(3) We <3 open source." [11] With only five employees working to improve the site, they welcomed suggestions and improvements from the general public. [8] Reddit's code is now available on Github, a "social coding" site that allows for collaborative programming anyone can take part in. [12]
After the Condé Nast acquisition, Reddit boasted over 51 million page views for the month of July 2008, a 7200% increase in traffic since 2006. [13] By October 2009, Huffman left Reddit to create Hipmunk, [14] a travel search site with an emphasis on easy to understand, visually represented search results. [16] Hipmunk has since been featured in Time Magazine's "50 Websites That Make the Web Great" [17] and the "Top 10 Smart-Phone Apps" [18] for 2011. Ohanian left Reddit in November 2010 [19] to pursue other projects in addition to serving as an advisor at Hipmunk. [60] He currently holds a position as a board member at Reddit. [15]
In September 2011, Condé Nast made the decision to "spin out" Reddit. [6] A spin out is a type of corporate restructuring that takes place when "a corporation breaks off parts or divisions of itself to form a new corporation." With that, the spun out company leaves with some of the parent company's assets and / or management. [20] At the time, Reddit had surpassed a total of 1.5 billion page views, showing no signs of slowing down. [21] The decision was made entirely by Condé Nast and its parent company, Advance Media. [22] This was mainly due to Reddit's inability to acquire enough resources for significant growth and revenue. Reddit's current CEO Yishan Wong made the following statement in an interview with Forbes:
"They felt it best positioned Reddit for long-term success. After being "incubated" for a number of years, Reddit has really begun to take off, so Advance decided that we needed the autonomy of being independent rather than being a wholly-owned subsidiary. They are still investors in the company, but our new capital structure gives us more flexibility in managing our own finances and establishing support operations like HR and IT that are customized to our needs, as well as offer competitive equity compensation to employees." [22] - Yishan Wong
Reddit's new board included Alexis Ohanian, Bob Sauerberg (President of Condé Nast), Joe Simon (Chief Technology Officer of Condé Nast), and Andrew Siegel (Head of Business Development for Advance Publications). [21] Reddit only employed "about a dozen" people at the time of the spin out. [6]
"The publisher isn't pushing Reddit very far away though. It is spinning out the company as a standalone operation, but will retain full ownership of it, for now… Condé's idea is that if Reddit operates on its own, it will be able to grow faster and attract a new breed of employee, including a new chief executive, a position it recently began trying to fill" [21] - Peter Kafka, Forbes
In an official Reddit blog post regarding the spin out, titled "Independence," General Manager Erik Martin said this move would allow Reddit to "have the latitude to address some global issues… [We] believe that Reddit has the potential, over the next generation, to positively impact journalism, civic engagement, fundraising, product development, and learning." He went on to say that although the change is scary, "Reddit is on solid footing to help explore the unknown world in front of us." [23] In an interview with VentureBeat, Ohanian expressed optimism about the change, stating now that Reddit is independent, "nothing is off limits." [24]
Before the spin out, Ohanian and Huffman felt Reddit never needed a CEO. It was run by its cofounders, managers, board of directors and employees. Now that it was an independent entity, mostly disconnected from its original founders, the board decided to hire its first official Chief Executive. In March of 2012, Yishan Wong was selected for the job. Wong's previous experience included software engineering at Facebook and engineering management at PayPal. He had also been an avid Redditor since its launch in 2005, and displayed a strong understanding of the company's culture of openness and transparency (one that is drastically different from that of Facebook and PayPal). [25]
---
Digg Messes Up
Reddit's explosive growth was mostly due to its clever innovations in user-friendliness and free speech, but also to the unfortunate decisions its competitors made over the years. There were several other successful websites that offered user-submitted aggregated links from around the Web, very much in a similar format to Reddit. These included Digg, StumbleUpon and 4chan. Reddit's most threatening competition was Digg, which worked similarly to Reddit, with categories and voting options like "Digg" and "Bury" in place of upvotes and downvotes. There was a heated rivalry between the two communities, with users from one forum flaming the other quite regularly. A "war narrative" began to develop over the years, especially as Reddit steadily became more popular.
Since its launch in December 2004, Digg had maintained a significant market lead, overshadowing Reddit as the "older brother" of social news aggregation. Reddit was viewed more as a geeky niche interest for programmers and 4channers, whereas Digg was the more popular mainstream platform that could appeal to a broader audience. As Reddit grew throughout the years, Digg consistently maintained its lead by most standard metrics (page views, unique views, etc.) – until the release of Digg version 4.0 on August 25th, 2010. Digg had been planning a "major overhaul" of the website that would introduce "exciting new features" for the millions of users already satisfied with the website. This marked the beginning of Digg's rapid decline in the industry.
Within a week of Digg v4's release, the front page was littered with users furiously complaining about the redesign. Some of the most highly voted comments included "Plain and simple… this sucks! Bring back the old Digg" (738 Diggs), "NEW DIGG SUCKS!!!!" (371 Diggs), and "The person who designed and / or suggested the design for this new DIGG should probably be fired" (611 Diggs). [26] There was a lot to complain about. Firstly, the site was initially unstable. Digg was unreachable or unstable for weeks at a time. Secondly, the new design was simply not popular with its users. One of the main criticisms was that it was "too complex," with an excessive amount of "Web 2.0" features – which slowed down the site. What bothered them most was the removal of certain features such as the ability to "Bury" a submission (downvote), save favorites, follow friends' submissions, or search for videos. [27] In place of these features was a new Twitter-like system, which allowed users to "follow" certain publishers and users (like CNN and Mashable) instead of subcategories. To add insult to injury, Digg had seemingly created an algorithm that made it easier for publisher submissions to attract more attention than regular users. This was due to its incorporation of Twitter and Facebook as indicators of a submission's popularity, encouraging mainstream publishers with thousands of Twitter followers to the top, while pushing lesser-known content to the bottom – a self-perpetuating cycle that gave websites with lots of traffic even more traffic.
"Whenever somebody Diggs something… or tweets something, all of those are calls to action that say, 'Hey, this is something that might be particularly relevant to you know." [28] - Jay Adelson, CEO of Digg
"… this new version of Digg reeks of VC meddling. It's cobbling together features from more popular sites and departing from the core of Digg." [29] - Alexis Ohanian
"Digg v4 had a new dynamic that removed emphasis on user contributed content and provided Twitter-like follow streams from websites that users could subscribe to. A lot of users felt as though this move was to generate revenue for the site, as it strongly promoted content and blog sties that drew a large amount of their traffic from Digg." [30] - Reddit History Wikia
They were allowing publisher accounts to "take over the front page with a really low vote threshold," writes social media critic Brent Csutoras in a blog post chronicling the unfolding events. [31] On August 30th, Digg users woke up to find that "six of the top seven" front page posts were linked to Reddit. [32] In a seriously embarrassing slipup, it turned out that for some apparent reason, Reddit's publisher account on Digg (which allowed for automatic submissions via RSS feeds) was gaining tremendous popularity on the front page. If it weren't for Digg's v4 redesign, Reddit would not have been able to monopolize the front page like it did. This was an eye-opener as to just how much power Digg has given to publishers at the cost of its users. Not only did Digg users lose faith in the service, but discovered an equally useful alternative right on their front page: Reddit. This was the beginning of a "mass exodus" from Digg to Reddit that continued for several years to come. [29]
Digg went from an estimated valuation of $160 million in 2008, to a devastating $500,000 sale to Betaworks, an investment company specializing in the tech acquisitions. It was a shocking blow to Digg, while simultaneously serving as a major contributor to Reddit's increasingly large user base. [33] Reddit's traffic grew three-fold in 2010, in part due to Digg's destructive errors in judgment. [34] Reddit eventually overtook Digg in traffic in April of 2011. [19]
"What we always used to say to make ourselves feel better when we were smaller than Digg was, 'Every Reddit user knows about Digg but uses Reddit instead. But not every Digg user knows about Reddit.'" [35] - Steve Huffman
Technicalities aside, Digg failed because of a lack of respect towards its users. Redditors had a stronger, smaller community culture because the users were in control. They trusted Reddit. The Reddit team kept their users up to date with frequent blog posts that addressed issues with total transparency. They also guaranteed their users that they would never censor content (unless they were legally obligated to do so), that advertisements and publishers would never take precedence over their users, and that they would always remain transparent. Digg went on to revamp their website as a "startup," launching a new "Digg v1" with an entirely different philosophy in mind. Digg v1 embraced its emphasis on social networking, with a mandatory Facebook or Twitter login – completely removing the option of anonymity for its users. The front page is also highly curated, and functions more as a general-purpose news site for interesting content on the Internet. [36]
---
How Does Reddit Make Money?
The general model for a Web startup proceeds as follows: (1) build something useful, (2) attract users and (3) worry about revenue later. The assumption of course being that once a website gains enough momentum to increasingly gain traffic, revenue can be brought in via advertisements, or a "freemium" payment model of some kind. While it certainly holds that websites cannot be successful without a user base, revenue does not necessarily correlate with the increase in users. Reddit serves as a particularly good example of this problem since one would hard-pressed to find advertisements on the site. How does Reddit continue to operate? Since its financials are not available to the public, analysts can only make assumptions, gathering whatever information has been released from the inside. Reddit has made use of two different revenue models: (1) sponsored links, and (2) subscriptions.
---
Sponsored Links
At the top of Reddit's (or a given Subreddit's) front page, is a blue highlighted "sponsored link." A sponsored link is an advertisement in the form of a Reddit submission. They function exactly as regular posts do, with the ability to comment, upvote, downvote or even hide the post. The ads are surprisingly non-obtrusive, and allow Redditors to take part in their popularity by using the built-in features they're already familiarized with. Ironically, Reddit uses the typical advertisement space around the website borders to point out the fact that they don't actually have ads. Sponsored links were implemented in January of 2009, announced on their blog as usual:
"We realize users often have animosity toward ads, but they are a fact of life on the Web. We care very much about the user's experience when reading Reddit, and we think this approach to advertising is much more reasonable than what you might see elsewhere online. Our hope is that we can both improve our advertisers' experience on Reddit without diluting yours. Thank you for reading and happy Redditing!" [37] - Steve Huffman
When asked why Reddit didn't take more advantage of its web traffic for advertising, CEO Yishan Wong gave a couple of reasons. The first and most obvious of which is a degraded user experience. Advertisements are an eyesore. They distract from the content and give the users the impression that Reddit is "selling out." On the other hand, the absence of advertising at Reddit's expense serves as a token of appreciation for their users' continued loyalty. "It's one of the reasons Digg failed," said Wong in an explanatory Reddit post. In addition to user experience, Wong pointed out some issues with advertiser involvement. Advertisers often put in requests to remove offensive content they fear might be associated with their brand. Given Reddit's non-negotiable policy when it comes to free speech, the addition of advertisements would only make this promise more difficult to uphold.
"It is true that given our massive page view count, we could theoretically load up our pages with ads and probably make enough to cover our costs. However, that would significantly degrade the experience of using the site. Before joining this company, I was a Redditor too, and if Reddit had done this, I probably would have stopped using the site…. Rather, we should beholden to our users. That is, if most of the money is coming from them users, then we'll answer to the users." [38] - Yishan Wong
---
Reddit Gold
On July 9th, 2010 Reddit announced they would be introducing a "freemium" membership model to account holders. It would be called "Reddit Gold." [13] In a blog post titled "Reddit Needs Help," software engineer Mike Schiraldi stated the following:
"The bottom line is, we need more resources. Whenever this topic comes up on the site, someone always posts a comment about how Reddit is owned by Condé Nast, a billion-dollar corporation like Time Warner or Cobra, and how if they wanted to they could hire a thousand engineers and purchase a million dollars worth of heavy iron. But here's the thing: corporations don't run like charities. They keep separate budgets for each business line, and usually allocate resources proportionate to revenue. And Reddit's revenue isn't great." [13] - Mike Schiraldi
He goes on to introduce the features that would come with a Reddit Gold account, currently priced at $3.99 per month or $29.00 for an annual membership. Over the years Reddit has added the following features, exclusively for use by Reddit Gold account holders:
More Subreddits and comments per page
New comments are highlighted
Ability to save comments
Advertisements can be turned off
Notes can be added to keep track of friends
Karma statistics can be broken down by Subreddit
Access to Reddit Gold-only subreddit: r/lounge
"Reddit Gold" trophy displayed on account page
Although these features may not be tremendously useful, the act of purchasing Reddit Gold is typically a show of support, rather than a utilitarian exchange of money for special features. $3.99 per month is not particularly demanding, especially for users that benefit from several hours a day of entertainment (or thousands over the years). It wasn't too much to ask, especially since not buying a subscription wouldn't otherwise alter the user experience whatsoever. Reddit Gold was simply a source for excess revenue. [39]
"We don't always intend to make these features Gold-only – in cases where it would be beneficial for everyone to have them, we'll eventually migrate the features to the whole community. But for Reddit Gold members, you get first peek… We also want to make Reddit Gold a membership that confers real benefits that are worth what you pay for it, so we're talking to some Reddit-friendly companies to provide special perks or access to stuff for Gold members. Stay tuned for more." [40] - Yishan Wong
That's all there is to Reddit Gold. It's a simple, voluntary contribution of a small sum of money if a given user is passionate enough about the site's success to help out. It was an experiment in user loyalty, which turned out to be successful. The introduction of Reddit Gold was not only a welcome addition to the site, but appeared to be a rather popular one at that:
"On three separate fronts, Reddit Gold has emerged as what can only be termed a huge success: (1) We're getting a much-needed cash infusion. (2) We've shown that, despite popular belief, people on the Internet are willing to be supportive if you treat them with honesty and respect. (3) It's given everyone involved with Reddit a good kick in the pants right when we needed it. It's hard to overstate your benefaction. And it means so much to us to be able to read through the comment threads and see that virtually everyone out there is pulling for Reddit… But it's not just Gold members who will benefit. Oh, no, the infusion we received this past weekend is for the good of all of us (except the ones who were banned). The first thing we're going to do is spin up additional servers that should smooth out the potholes in our recent site performance. These aren't special private business-class servers for paying customers only. They're being added to the general pool." [41] - Christopher Slowe, Senior Programmer
Reddit's business model is a work in progress. With no immediate risk of going under (due to the financial safety blanket provided, courtesy of Advance Media), they can afford to experiment with different revenue sources without reducing the quality of user experience. Although at this point, Reddit is simply not profitable. As traffic continues to surge, so does server usage. Increased server usage results in higher operating costs, not revenue. Since ads only occupy a small percentage of its pages, and Reddit Gold is only in its early stages of development, the company is still struggling to meet its costs. [38] The most recent estimate puts Reddit at a $240 million valuation. [42] Of course these estimates are based solely on market trends and analytical methodologies, which do not take the private financials of the company into account.
---
II. ALTRUISM FOR THE MASSES
---
Redditors Fight for Internet Freedom
The Stop Online Piracy Act (SOPA) and the Preventing Real Online Threats to Economic Creativity and Theft of Intellectual Property Act, or PROTECT IP Act (PIPA) were introduced by Senators Lamar Smith and Patrick Leahy, respectively, in late 2011. The bills were the first of their kind to introduce widespread censorship to the Internet in the United States. Together, they would have allowed private corporations the right to shut down unauthorized sites that allowed users to download pirated movies, television shows and music. Since most of these websites are outside of US jurisprudence, they cannot be shut down at the source. SOPA and PIPA would have given the power for Internet providers to locally block access to the infringing domain names. US based search engines, directories, blogs, hosting sites, etc. would be forced to remove unauthorized links if the intellectual property belonged to another entity. The offending websites would also be subject to having their funds cut off by payment services and advertisers, which would be required by law to cancel their accounts. A single infringing link could threaten the existence of an entire website by force. This would mean that websites such as YouTube, Twitter and Facebook would have to begin censoring their users, or risk being shut down by the government. Ordinary users could also be held liable for simply posting copyrighted work (i.e. a link to an authorized song on YouTube). [43] Naturally, these bills caused widespread panic among users and businesses alike. In early January 2012, Alexis Ohanian took to Reddit for advice on how to best leverage his social and political power to help stop SOPA and PIPA in its tracks. [44]
On September 7th, 2012 a moderator of the r/askreddit, andrewsmith1986, suggested he shut down the Subreddit for 24 hours in protest of SOPA. The idea was to give users a taste of what it would be like to no longer access a site they once enjoyed, due to new copyright restrictions. After gaining considerable attention within the Subreddit, the Reddit admins published a joint blog post on September 10th announcing their plans to black out Reddit on January 18th for twelve hours straight:
"We're as addicted to Reddit as the rest of you. Many of you stand with us against PIPA / SOPA, but we know support for a blackout isn't unanimous. We're not taking this action lightly. We wouldn't do this if we didn't believe this legislation and the forces behind it were a serious threat to Reddit and the Internet as we know it. Blacking out Reddit is a hard choice, but we feel focusing on a day of action is the best way we can amplify the voice of the community." [45] - The Reddit Team
Soon after the Reddit announcement, Wikipedia and Mozilla announced they would be joining in on the SOPA blackout. On January 18th, a total of 50,000 websites went dark in support of Internet freedom. That day, 10 million online petition signatures, 8 million phone calls, and 4 million emails were sent in protest to government officials in charge of the bill. The SOPA blackout was later deemed the "largest [online] protest in history." The day after the blackout, fourteen senators voiced their concerns about the bills. Three days later, SOPA sponsor Lamar Smith tabled the bill indefinitely. One unassuming suggestion to blackout a single Subreddit led to this massive, international operation to blackout many of the world's major websites. The extent to which this played a part in SOPA's dismissal cannot be known, although its impact was incredibly vital in spreading awareness of SOPA and PIPA's harms to Internet freedom. [46]
The SOPA blackout was not the only Reddit-based initiative to kill the legislation. The Subreddit r/OperationPullRyan [47] was created with the mission of exposing Congressman Paul Ryan's unethical behavior in the past until he publicly announces his disapproval of SOPA, or until he loses his seat in congress. Surely enough, within a few days of its creation, Paul Ryan criticized SOPA for its ability to create "undue regulation, censorship and legal abuse". [47] Reddit was also the reason that the domain registrar and hosting service GoDaddy retracted its support for SOPA and PIPA after an organized "GoDaddy Boycott." Thursday, December 29th, 2011 was declared the official day to "move your domain name away from GoDaddy." [48] Once thousands of account holders began to cancel their contracts, GoDaddy quickly put a stop to their support for SOPA and PIPA. [49]
---
Rally to Restore Sanity
On August 28th, 2010, conservative media personality Glenn Beck held the "Restoring Honor" rally at the Lincoln Memorial in Washington, D.C. The event included speeches from Beck and 2008 Republican Vice Presidential nominee Sarah Palin, which addressed their fears about America's "shorty supply" of faith. [50] "America today begins to turn back to God. For too long, this country has wandered in darkness," Beck said as he delivered his speech to a crowd of over 87,000 attendants. Martin Luther King's niece, Alveda King, also made an appearance at the event, proclaiming that she too has a dream, "that America will pray and God will forgive us of our sins." The rally's overall message was widely regarded as one of extreme religious, social and economic conservatism. [51] The speakers unapologetically attacked the political left for its alleged corruption of the American population. "I believe in the concept of socialists destroying America. I think they've been wanting to for a long time… We are going to take the country back… They're not going to get us," said Palin as she addressed the crowd. [52] The rally was mocked for spreading dangerous ideas that were conducive to only dividing the country further. Beck's emphasis on the "other" as inherently evil was met with much criticism. [51] The liberal media ridiculed his excessive emphasis on religious extremism and conservative ideology. Reddit's overwhelmingly liberal demographic consequently jumped on the opportunity to join in on the mockery.
Shortly after Beck's rally in Washington D.C., a post by Reddit user mrsammercer, titled "I've had a vision and I can't shake it: Colbert needs to hold a satirical rally in DC" appeared on Reddit's front page on August 31st:
"I was woken in the middle of the night by this (along with the sound of my cat getting ready to pee on the rug). Think about it. It'll be just like Colbert's mockery of GW Bush at the 2006 White House Correspondent's Dinner, but 500,000 people will be able to participate with him. We'll all stay totally in character as teabaggers… This would be the high water mark of American satire. Half a million people pretending to suspend all rational thought in unison. Perfect harmony. It'll feel like feel like San Francisco in the late 60s, only we won't be able to get any acid." [53]
That night, mrsammercer, now identified as Joseph Laughlin, awoke to find over a thousand comments and 6,000 upvotes in support of the idea. "I'm just a regular Redditor," he said in an interview with the Washington Post, "I'm on there all the time. I made the post and checked that night and it was the number one post on Reddit." [54] In a response to the original thread, Laughlin wrote, "The response to this post has blown my mind… And the thought of Colbert himself actually maybe seeing this is probably the coolest thing that's ever happened to me so far in my life." That post (unintentionally) set off an unstoppable force in the social media world that was out of Laughlin's hands entirely. [54]
In two weeks, the post triggered over 32,000 likes on the newly created Facebook page, 18,000 subscribers to the r/colbertrally Subreddit, 5,000 tweets and a dedicated website. [55] The Colbert Rally was later renamed the "Restoring Truthiness" campaign, after which, within one day raised $100,000 for DonorsChoose, a nonprofit organization created to improve public education in the United States. Redditors invested in DonorsChoose, mostly because Stephen Colbert was a sitting board member at the time. [56] On September 7th, Jon Stewart announced on the Daily Show that he would "have an announcement sometime in the near to not so near future," which was followed by Stephen Colbert's announcement of a similar announcement on the Colbert Report. [57] On September 16th, Stewart finally announced the "Rally to Restore Sanity," and Colbert the "March to Keep Fear Alive," both parodies of Glenn Beck's rally, with Colbert assuming the role of the sarcastic ultra-conservative ideologue, and Stewart the voice of reason. Due to legal restrictions, the two events were combined into one "Rally to Restore Sanity and/or Fear," set to take place on October 30th at the National Mall in Washington D.C. The rally was successfully attended by over 215,000 supporters, drastically outnumbering Beck's 87,000 person attendance.
The event also attracted a total of 2,000,000 viewers on Comedy Central and C-SPAN, not accounting for other live streams viewed internationally. [58] By that day, the charity drive for DonorsChoose had already raised an impressive $500,000. [59] Alexis Ohanian called the event "geek Woodstock," after spending the day at the rally "swamped by Redditor fans." [44] Amid the donation drive, Stephen Colbert had been closely monitoring Reddit's involvement with Donor's Choose, and sent a letter as a show of appreciation.
"Dear Redditors,
Ever since the visit of one of your Dear Leaders, Alexis "kn0thing" Ohanian, my inbox has been orangered with pleas to "Restore Truthiness." The track record of your hivemind speaks for itself. Mr. Splashypants got a name. You rescued Soapier. You frightened the sweet-and-sour Jesus out of a 90-year-old man on his birthday. Despite how silly and nonsexual reddit can be, your true colors show when someone is in need.
I almost had a pregnant when I saw what you had done at DonorsChoose.org for classrooms around the country. I am humbled and honored (a rare combination for me), and find myself wishing there was a Look of Approval.
You have inspired me by helping untold thousands of students; with the momentum you've created, we could stage a hundred rallies. I might just call on you, Redditors - for nothing is more terrifying than tens of thousands of Heroes taking to the streets with the faint odor of bacon wafting behind them. Except for bears, obviously.
One huge upvote for you." - Stephen Colbert
---
Random Acts of Pizza
r/random_acts_of_pizza is a Subreddit that allows users to buy pizza for fellow Redditors in need:
"Because… who doesn't like helping out a stranger? The purpose is to have fun, eat pizza and help each other out. Together, we aim to restore faith in humanity, one slice at a time." [60]
A large chunk Reddit's demographic consists of young college students on a low budget that, not surprisingly, go broke on occasion. Since most major pizza chains accept credit card payments, and since pizza is relatively cheap, then why not help out? One of the Subreddit's founders, Daniel Rogers of San Antonio, Texas, said he got the idea during a period of unemployment, which led him to feel "disconnected from society." [61] Random Acts of Pizza gives people to opportunity to help those in need of a delicious dinner, or to be the recipient of one. Redditors can submit requests for free pizza, and if their story is compelling enough, a fellow "RAOPer" might decide to send them one.
One ABC News article describes the stories as "moving, even heartbreaking." [60] A typical post might sound something like this, from Gabriel in New York: "It's been a long time since my mother and I have had proper food. I've been struggling to find any kind of work so I can supplement my mom's social security… A real pizza would certainly lift our spirits." [60] Redditors normally provide evidence such as a screenshot of their bank account, or a picture of their empty fridge. r/random_acts_of_pizza eventually launched a website with additional information and a rundown of the rules. Since then, spinoff Subreddits like r/randomactsofcoffee, r/randomactsofcookies, r/randomactsofchristmas, r/randomkindness, r/RandomActsOfAmazon, r/assistance and r/favors (just to name a few) have all launched in the same spirit. The ecosystem of kindness and "faith in humanity" is continuing to grow within the Reddit community, much of which is credited to r/random_acts_of_pizza. On Reddit, all it takes is the creation of one seed for an idea to grow far past its intended potential.
---
Religious Differences Are Put Aside
In December of 2010, moderators from the r/athesim, r/christianity and r/islam Subreddits joined together to raise money for a cause of their choice. The initiative began on December 8th, when Margaret Crymes, a member of r/christianity, suggested the community fundraise for World Vision, a Christian relief group. In an initially competitive move, members of r/atheism, renowned for their inflammatory comments towards all major religions, upvoted a submission that said "If r/christianity builds a hospital in the Third World, we are going to build 10! Let the X-mas Wars and the overall battle for goodness in the world begin!" The following day, a member of r/atheism registered a page for Doctors Without Borders on FirstGiving.com, an online fundraising facilitator. r/christianity followed suit with a page for World Vision, only to be joined by r/islam, which set up its own page for Islamic Relief, a charitable group in the same the vein. By December 16th, over 115,000 members of all three communities donated a total of $55,000 within a week of the project's creation. What began as a hopeful suggestion in r/christianity, turned into a philanthropic competition that brought together members of three opposing belief (and non-belief) systems together for the sake of the greater good, all in a week's time. [62]
A year later, a member on r/atheism urged the community to continue the donating in celebration of 2010's successful charity drive. In 2011, they set a target of $150,000 in time for the holiday season. [63] Within a couple of weeks, over $200,000 was raised from the r/atheism community alone. "It's amazing, what's going. The amount being raised is amazing, definitely… We don't control any of this," said a spokeswoman for Doctors Without Borders Geneva. [64] Donations contained messages like "Because god won't," or "Good without god," or "I WAS gonna buy some Taco Bell… but screw it." Redditors on r/atheism were able to raise the most money due to their overwhelming majority over other religions on the site.
---
The Biggest Secret Santa in History
Dan McComas is a long-time Redditor (kickme444) from San Francisco. Normally a freelance web programmer, on Christmas McComas assumes the role as an open-source Santa Claus of the digital world. In 2009 he created RedditGifts, a Secret Santa program designed specifically for Redditors. Once registered, participants were matched with one another at random, exchanging only usernames and shipping addresses. RedditGifts attracted over 4,500 participants in its first year, claiming the title for the largest Secret Santa in history. [65]
An excess of $160,000 was spent on the program that holiday season. "Giftees" were often in disbelief that their paired Secret Santas actually followed through. Many uploaded pictures of their presents on the Gift Gallery for the world to see. On average, only about 10-15% of participants drop out or send nothing at all, which is rather impressive considering there is no authority policing users into following through. [66] While the program imposes a $15 limit on gifts (which is impossible to enforce), many "gifters" went above and beyond, sending everything from handmade gifts, brand new Xbox games, and in one case, $1,500 in cash, which one lucky Redditor received anonymously in the mail. [67] As counterintuitive as it may seem, the desire to exchange gifts with complete strangers was very much in high demand. [68]
In 2012 the number of participants grew to 57,000, with over $1 million spent on gifts and shipping. [69] Each year, RedditGifts sets up a page on DonorsChoose with different donation challenges. This year $38,322 in educational books was donated to public schools around the country. [70] The Secret Santa movement has now become a thriving community, outgrowing the simple gift exchange it once was. The website presently functions as a hub for Reddit-inspired philanthropy and its surrounding community, with regular meetups in cities around the world, ongoing gift exchanges, and a marketplace for all things Secret Santa. The Board of Directors at Reddit was so impressed with the company's spirit that they decided it would be a good idea to actually go ahead and acquire RedditGifts. In fact, this was Reddit's first ever acquisition. With only two employees, RedditGifts was having trouble paying for their operating costs. Reddit's acquisition provided them with the financial security they needed to grow and maintain the beloved yearly tradition. [71]
---
Redditors Act Quickly for Haiti
After the catastrophic earthquake that hit Haiti in 2010, Redditors organized a fundraiser on r/haiti that brought in $185,000 via DirectRelief, a non-profit aimed at providing aid to areas hit by natural disasters. The first $100,000 was raised in just 12 hours. [72] Alexis Ohanian coordinated with DirectRelief to ensure 100% of all donations went directly to Haiti, regularly updating Reddit on the official blog. A week later Ohanian thanked the community, noting that Reddit had now become "the single largest donor to DirectRelief International." [73]
---
III. ALTRUISM FOR INDIVIDUALS
---
Alexander Rhodes Gets Famous
Reddit once used its cumulative power to propel a struggling actor to Internet stardom. Alexander Rhodes landed a job as an uncredited "suspicious onlooker" extra in the Tom Cruise move Jack Reacher, yet had remained out of work since. One night he commented on a post on r/askreddit titled "Where do they find those skinny guys for holocaust movies?" He gave a detailed response to the question with a link to his IMDb page listing the films he was lucky enough to be an extra for, such as The Dark Night Rises and The Perks of Being a Wallflower. [74] After hundreds of Redditors clicked on the link to his profile, Rhodes noticed that his IMDb popularity ranking had skyrocketed into the top 500. It turns out that the algorithm determines overall ranking by the number of profile page visits. The following day he created a thread on Reddit thanking the community for their (unintentional) support, which led to his newfound Internet popularity. Redditors found his story so amusing that they formed an "Operation Rhodes2Hollywood" team. Their mission: make Alexander Rhodes a household name. They took to Reddit, Twitter, and Facebook, creating memes and hashtags, garnering thousands of likes in the name of Alexander Rhodes within the course of a couple of hours. Redditors were instructed to compulsively check his IMDb page in order to artificially inflate his popularity ranking.
Within a week, Alexander Rhodes was ranked the #2 most popular actor on IMDb. Although he was just an extra in Jack Reacher, his name appeared first on IMDb's cast list (determined by the popularity ranking), outshining the star of the film, Tom Cruise.
Operation Rhodes2Hollywood snowballed to a point where even Tom Cruise himself caught wind of it, tweeting "Well done, Alexander! #Rhodes2Hollywood –TeamTC RT @Alexander Rhodes And LMAO I'm #5 cast on Jack Reacher."
The following week, Rhodes landed an acting gig for Cracked and opened up an online store for "suspicious onlooker" merchandise. Most astonishing was that Alexander Rhodes took no part in the operation, nor did he ask for its creation. Redditors decided to make him famous, and it worked. [75]
---
Ted William's Golden Radio Voice
Columbus Dispatch reporter Doral Chenoweth regularly drove by a homeless man by the name of Ted Williams on his way to work. One day, he discovered that Williams had a secret talent: an impeccable radio voice. Chenoweth took the streets to record Williams in the act. "When you're listening to nothing but the best of oldies, you're listening to Magic 98.9," performed Williams, and very humbly thanked those around him for their generosity. He had a sweet, humility about him that the Internet soon fell in love with.
When the link was posted to Reddit, it immediately hit the front page. Redditors raised over $1,000 for Williams out of sympathy and appreciation for his talent. They also teamed up to get create a website in the hopes of getting him a job in the radio industry. [76] Within a month Ted Williams was featured on CNN, CBS, and MSNBC among several other popular news outlets. Williams appeared on the CBS Early Show to talk about his descent into drug addiction, homelessness and separation from his family. He was later reunited with his mother on national television. Soon enough he landed a job for a Kraft Macaroni and Cheese commercial, which went viral. The Internet star eventually landed a stable job as the official voice of NECN cable news station in Boston. [78]
---
Reddit Backs Zach Anner
In 2010, Oprah Winfrey launched Your OWN Show: Oprah's Search for the Next TV Star, a talent competition whose winner would create and star in their very own television show on The Oprah Winfrey Network, set to debut in 2011. Zach Anner, a contestant who suffers from cerebral palsy, posted his audition video online.
In the video Anner pitches his idea for a travel show, lightheartedly poking fun at his physical disability, which he jokingly referred to as "the sexiest of the palsys". The video made its way around Reddit, Digg and 4chan, winning over the hearts of his Internet audience. Quickly becoming a Reddit sensation, Redditors encouraged each other to vote for him to win the contest. [79]
On June 22nd, Zach had taken a strong lead on the competition website, putting him in position to win the contest. [80] That afternoon, the woman who was in second place, Doctor Phyllis, somehow took the lead. She had an increase of 600,000 votes in a single hour, which was suspicious since no contestant had ever gotten that many votes even within a day. A post on Reddit appeared with what was called "undeniable proof" that the competition was rigged against Anner. Reddit user bearjew posted a detailed graph showing the spike in votes in relation to the previous averages. Redditors collaborated to investigate the matter. Some extra code was found in the website source which would hypothetically allow employees to manipulate the numbers. Within a couple of hours, the code, and Doctor Phyllis's unusually high increase in hourly votes mysteriously disappeared. Between 6:06 pm to 10:24 pm ET, Doctor Phyllis received 1,923 average votes per minute, while Zach Anner was only at 977 average votes per minute. From 10:24 pm to 12:26 ET, Doctor Phyllis's average dropped to 3 votes per minute, while Zach Anner's remained the same.
Redditors were baffled by the immediate hourly votes. Posts later appeared on Reddit pushing for fans to continue voting and spreading the word that Oprah was skewing the votes in favor of Doctor Phyllis. On February 25th, 2011 Anner eventually reclaimed his position in first place, winning the competition, his own television show, $100,000 and a Chevrolet Equinox. Anner stated he was skeptical about the rigging, saying that Oprah was "probably too busy building schools and helping children to even notice someone like me." This however did not discredit the chance that there was some motivation for a network employee to mess with the numbers. There was widespread speculation that the network wanted Dr. Phyllis to win because she was African American, and therefore would make for a better story. An article in the San Francisco Chronicle suggested that it was a "fair bet" that it was a result of "blog spam" coming from Marietta, Georgia, since 5% of the website traffic was coming from there. [81]
Redditors and 4channers were accused of cheating after one anonymous 4channer admitted to creating scripts that allowed a single computer to automatically vote many times over. It's very likely that the script was sent to others on the Internet. Regardless of whether it was executives working for Oprah, or spammers from Georgia, Reddit proved to be more effective in determining the winner. They created an organized team of Zach Anner fans that spent time analyzing the data and spreading the word on a large enough scale to ensure he won, even after the vote counts were altered. Anner posted one video thanking Reddit for their help, and another answering questions posted by Redditors. His television show, "Rollin' With Zach," finally premiered on December 12th, 2011. The show was described as a "humorous approach" to travel, where Zach conquers a new city in each episode. Although it was cancelled after only six episodes, Anner quickly returned to the spotlight – this time with Reddit's co-founder, Alexis Ohanian. "After the Oprah show was cancelled I knew I that I wanted to make another travel show, but I didn't know how it was going to happen, "Anner said, "I just knew that there was so much we hadn't gotten to explore." Ohanian had sent Anner an email before his show's premiere saying, "Hey. I'm the cofounder of Reddit. You're awesome. Let me know if I can ever help," which resulted in a continued friendship between the two. The two collaborated to create "Riding Shotgun with Zach Anner," a new YouTube series that began filming in July of 2012. This time Redditors voted on the cities he would visit, and YouTubers on the activities they would take part in. [82] Reddit's commitment to his success made Zach Anner a household name. They fought for him from the beginning, through the rigging scandal and finally, took part in the creation of his all-new series, which wouldn't have happened without the help of Alexis Ohanian himself. Zach Anner is one of many whose lives have been drastically altered by the joint effort of determined Redditors. [79]
---
Terminally Ill Nine-Year-Old Supported By Reddit
In early October 2010, Redditors organized a fundraising page for Kathleen Edwards, a seven-year old girl with late-stage Huntington's disease; an incurable diagnosis. A husband and wife branded by the media as the world's "most heartless couple" were the subjects of a very public controversy after posting several photos of the terminally ill child superimposed onto a set of crossed bones and a dead skeleton on Facebook.
A year before, Kathleen's mother Laura Edwards, died from the same disease at age 24. Shortly after, Scott and Jennifer Petkov reportedly drove a truck and by Laura's home with the message "Death Machine," written on the side of it while honking in a taunting manner. The Petkovs were purportedly involved in a feud with Kathleen's family because of a text message that wasn't responded to "quickly enough," although it's hard to imagine what kind of "feud" would warrant this level of despicable behavior. Jennifer Petkov said the ugly feud escalated to this point for "personal satisfaction." Her husband, Scott Petkov referred to their actions as "brutal honesty" in their defense. Kathleen's father's efforts to shield her from the pictures inevitably did not work. Being mocked for her terminal illness was the last thing she needed on top of suffering frequent seizures and painful treatments. A post titled "REDDIT: I own a toy store near the 7-year old being taunted by her neighbors…" suggested they donate money that would be given to Kathleen in the form of toys and money for her treatment. The storeowner also posted her address so that they could send cards and well wishes to the young girl in the hope of consoling her during this tough time. After raising over $8,600 including one single anonymous donation of almost $3,000, a post appeared on Reddit with updates on Kathleen. [83]
"Kathleen is coming to Ann Arbor (about an hour away form her house) by luxury limo – donated by Perfection Limousine, shopping 'til she drops at our toy store to get anything she wants, no limits. Then we are taking her over to the children's hospital where she will be donating hundreds of toys to sick kids there in her name… Fox 2 will be coming along for the trip, and photos will be taken by everyone who can. Any nearby Redditors are encouraged to be at our store at 9:30 to cheer and applaud and welcome Kathleen and her family. Bring signs of encouragement, posters, banners, throw rose petals, whatever it takes to her a princess! All in good taste, of course."
Links were posted for further donations to other sick children. At the event, Kathleen held up a "Thank you, Reddit" sign in appreciation of their good will. Jennifer Petkov was later taken to court for allegedly trying to run over another neighbor with her car. She pled guilty to assault and battery charges, was sentenced to 18 months probation and was ordered to leave the neighborhood. This took place shortly after she lost custody of her children as a result of her abuse towards the Edwards family. [84] While Redditors were raising money for Kathleen, 4channers were plotting revenge. Her phone number, home address and a list of Petkov's and her family's social network profiles were posted online. 4chan users spammed her with abusive messages and vandalized her home, a different kind of moral activism albeit hard not to justify in this specific case.
---
Detective Work
Reddit user parachuteout was riding his bicycle one evening when he suddenly got hit by a black SUV, suffering serious injuries to his knee. "I realized I'm bleeding from under my knee," parachuteout explains in a Reddit post, "found a gash the size of a golf ball in my leg, with the skin and fat issue all fucked up and bulging out." He reports that the driver unapologetically began to verbally abuse the Redditor, claiming he was not at fault. After an exchange of threats, the driver agreed to drop him off at the hospital. Before leaving the car, the victim made sure to get the driver's phone number and a picture of the license plate. When he finally filed the police report, he was told the phone number was of no use due to an "apparently outdated police search system." To make matters worse, the license plate photo was washed out thanks to the iPhone's automatic flash. When he asked if they could somehow enhance the photo for clarity, the Montreal Police allegedly scoffed, telling him "[We] don't have any of that CSI shit." Parachuteout took to the Reddit detectives for help. On a post on r/askreddit, he writes, "Got hit by a car. Can somebody help me figure out this license plate number?" Sure enough, the top voted comment was a Photoshop-enhanced picture of the license plate with the numbers in clear view. According to the online newspaper The Daily Dot, "a squad of Photoshop-savvy Redditors… passed the photo through filters, converted it to alpha channels, used a grid to align the numbers, and otherwise poked and prodded it with every photo-enhancing instrument they could find. It was a mad science experiment in crowd-sourced CSI." There was some debate over whether one letter was a 7, J or Z, which was later solved by Redditor likely_controversial who posted an overlay grid representing the degree at which the image was skewed, based on the approximate distance and "other mathematical wizardry."
The grid confirmed that the missing letter was a Z, with unanimous consensus from Reddit's team of detectives. "WE HAVE A WINNER! Thank you all SO MUCH!!!" posted parachutout on the thread. What the Montreal Police called "CSI shit," Reddit took care of in no time. If the victim didn't think to post on Reddit, he probably would not have been able to get reimbursed for the hospital charges and serve justice where it was due. [85]
---
Musician's Stolen Cello Brought into the Spotlight
Travis Young, the father of a skilled young musician attending the San Francisco Conservatory of Music posted a plea on Reddit after his son's $20,000 cello was stolen from an unlocked locker at his school:
"Hey Reddit, my son's very expensive cello was stolen from the San Francisco Conservatory of Music yesterday. Here are the surveillance pics from security that show a young couple making-off with my son's primary instrument. FWIW, this instrument is one of the most expensive things I have ever owned. It was stolen around 4:05 PM on Sunday, September 16th, 2012. These people are nonchalantly making-off with a full-size cello that was purchased when my son graduated from a smaller cello when he was 12. We've owned it for 11 years. He's in the collegiate division at the San Francisco Conservatory and it is not only the vehicle for his ability to obtain a classical music degree, but is also his sole source of income, as he uses it in performances and recordings."
His post was met with much sympathy after some users posted links of his son's incredibly talented performances. "Performing bohemian rhapsody in public has paid for his mastering Bach and Beethoven in private education," mentioned one article about the incident. The cello was a 1987 Karl Höfner Bubenreuth, an incredibly rare and high quality handmade instrument. Young posted surveillance images and video in the hopes of someone on Reddit identifying the seemingly innocent couple that walked into the building that day.
After the post became highly upvoted on r/pics, the story began to make headlines. The following day it was picked up by NBC, Huffington Post, SF Weekly and four features on local television that night. The Subreddit r/stolencello was created to continue investigations. After the blowout media coverage, the cello was found lying against a door at the War Memorial Opera House by an employee, who had seen the news reports on television. The thieves are yet to be found, but are likely to face "felony grand theft charges" if identified. Reddit was flooded with videos of the young musician's reunion with his beloved cello, and a very appreciative thank you post from Travis Young. [86]
---
Reddit Pays For A Funeral
Redditor willwaldon posted an "Ask Me Anything" on r/iama, a Subreddit for people with an interesting story or background to answer questions from the community. willwaldon's post read "My mom has cancer and will die in about 2 weeks. AMA." In his description, he wrote:
"My mom's doctor gave her 2 years to live after battling cancer for 2 years. She is too weak for Chemo or any other therapies. These are the last days that Is pend with the woman who raised me and gave me life. My father is retired and living off social security, barely getting by. I'm currently unemployed and am late on my bills. My brother is unemployed as well. The funeral costs are well over $10,000. ASK ME ANYTHING."
After Redditors expressed concern for his financial situation, willwaldon posted an update after his mother's death with a donation link. To his surprise, Redditors immediately started donating, presumably because they knew it was a very time-sensitive predicament. "THANK YOU SO MUCH REDDIT!" he wrote in a later post, "My dad cried on the phone when I told him about the outpouring of support from a website of strangers that he has never and will probably never meet. You guys are amazing. I'm overwhelmed with joy!" Alexis Ohanian later posted about the the story on his blog, "Seriously, I could write a blog entry a week about awesome random acts performed by the Reddit community," he writes, "Mainstream media, feel free to cover this stuff for a warm & fuzzy story about the Internet." [87]
---
Sick Three-Year-Old Gets A Bone Marrow Transplant
"Hi Reddit, I'm Lucas! I'm 3 years old have a 1 in a million disease, and need a bone marrow transplant!" Redditor ironyx's post on r/assistance was a desperate attempt to help his girlfriend's sister's three-year-old son. Lucas suffered from a rare immune deficiency disorder called Hyper IgM Syndrome. Lucas's parents were informed that a bone marrow transplant could be his only hope for a cure. Sadly, the cost of living, medical bills, and day-to-day expenses of the six-month treatment process would put the family into serious debt. To make matters worse, Lucas's father would have to quit his job and relocate to Durham, NC where the procedure was set to take place. Their financial advisor estimated they would need $50,000 to pay for the operation and related costs. The Reddit post included pictures of Lucas holding up written signs explaining their horrible situation, as well medical documentation of his condition. Hyper IgM syndrome is is a blood disorder that "leads to life threatening infections" such as "pneumonias, meningitis, and a significant risk of early death in childhood." Within 12 hours, Reddit had raised $31,000 through a PayPal site on the family's website for Lucas. A couple of days later that number jumped to $55,000. [88] ironyx posted the following after update after the donation was over:
"Let me just say it once more Reddit, you absolutely amaze me…Truthfully, I thought that the whole Reddit post would be a cute idea and get us another 5k... Maybe 10k if we were REALLY lucky. And then... you guys and girls showed up. It has been absolutely surreal and Beth and Luis (and Lucas!) are absolutely thrilled. I am completely blown away and I think that I'm still in shock to be totally honest. Any doubt that I ever had in humanity has been entirely washed away… Cheers to you, Reddit, you unbelievably incredible group of people. I am forever indebted."
Lucas's father, Luis Gonzales expressed his indebtedness to the community on r/assistance by getting a tattoo of the Reddit alien. In a thank you post, he wrote:
"I guess the biggest surprise or thing I didn't realize was what a strong sense of community there is on Reddit. I consider it a place now, rather than just a website."
Reddit General Manager Erik Martin wrote about Lucas in an official blog post thanking the community for their support. In the post he encouraged Redditors to register with the National Marrow Donor Foundation, and linked to a list of Reddit's "amazing collection of altruistic Subreddits." In March of 2012, Lucas finally received the bone marrow transplant. "The good news is in! He made it through without any complication!" Lucas's father posted an update r/assistance with the happy news and wishful road recovery.
---
Reddit Cheers Up Dying Uncle With Thousands Of Letters
Diagnosed with Down syndrome and a terminal liver disease at age 47, Scott Widak was on track to spend his final days at home with his 85 year old mother, waiting for the inevitable. His nephew Sean O'Connor, an avid Redditor, posted on r/askreddit to see if he could get anyone to send his uncle a get well card. "One of his favorite things to do is open mail… anyone feel like sending him a letter or card?" 1,300 responses came flooding in, in just three hours. O'Conner capitalized on the attention and posted a link to an article about his uncle's art and difficulties with Down syndrome. Reddit removed the post four hours later because it included personal information (address, phone number, name), which is strictly forbidden. This apparently did not deter Redditors, who shared the contact details among each other. Soon enough, thousands of letters started pouring in from the United States, Sweden, Finland, Iceland, Australia, Japan, the United Kingdom and Mexico." Music CDs, DVDs and art supplies were also received. One commenter said, "I freelance at Sony Music, I'll see what Johnny Cash stuff we can send out." "My family and I are amazed at how so many strangers could come together for a random act of kindness," he said in apparent disbelief. Their story was featured in the Los Angeles Times. [89]
---
Faraja Orphanage in Kenya Finally Protected
"Meet Omari. Two days after he returned from the hospital after being hacked in the face by a machete defending an orphanage of 35 children by himself. Thank we could raise the $2,000 needed for the remainder of the cement/barbed wire wall to keep both him and the children safe?"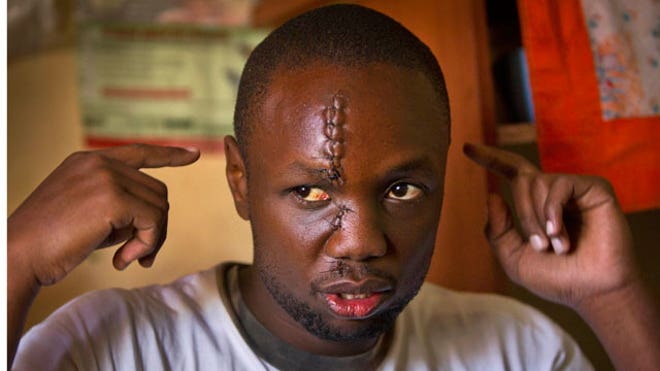 Posted by Ben Hardwick (TheLake) in January 2012, Redditors raised $80,000 for the Kenyan hero who risked his life to save the children of the Faraja Orphanage. Donations came in from all 50 states and 46 countries. The charity helped build the urgently needed 8-foot fence, with excess money used to create a long-term relationship with the orphanage. He consulted Reddit for advice on how to spend the donations, which after all wouldn't have happened without them. "I think you should buy some paints and brushses and let the kids paint all holy hell over the inside of that wall. Make it look like a fun place to be, and safe," suggested one Redditor. Omari was hurt in an apparent revenge attack, from a group of ruthless thieves wielding machetes and hammers. "I'm trying to tell [the kids] to go back, but they were not listening, so I turned and was rushing to close the door, close them in," Omari explained, "That's when I think one of them got me with that double edged sword, he got me in the face. So it was painful for a few seconds. But I swung my rod again, I hit him, he lost the sense of direction. I managed to close the boys in and I passed out." The people at the Faraja Orphanage were fearful not only for their lives, but for the children too. Hardwick has since sustained a strong relationship with them, updating Reddit on the incredibly positive influence they had on their lives. [90]
---
Other Notable Cases
Hundreds of Get Well cards were sent to nine-year old Ethan Millerick, who was suffering Shone's syndrome, a serious heart disease. [91]
Redditors reported Texas Judge William Adams to the authorities after a video of him beating his teenage daughter, diagnosed with cerebral palsy, surfaced on the front page. Judge Adams was suspended from his job. [92]
$3,000 was raised for the Electronic Frontier Foundation, an international non-profit digital rights advocacy group. [93]
After deciding he wanted to meet his birth mother, Redditors helped Wannamaker track her down. With nothing but a name and approximate age, Wannamaker had no luck finding her prior to posting on Reddit. [94]
One Redditor's failing soap business was saved after fellow Redditors purchased massive quantities of soap from his business, Soapier. [95]
Helen Thomas, member of the White House Press Corps, received $4,100 in flowers and other tokens of appreciation from Reddit after she publicly slammed the Bush administration for denying torture practices. [96]
A web campaign was started on Reddit to expose The Elan School, an abusive boarding school in Maine, which was shut down soon thereafter. [97]
Radio Reddit was started as a music-discovery site that streamed music created by independent artists on Reddit. The algorithm is based on Redditor's upvotes and downvotes of certain music submissions. It was created as an accessible platform that allows up-and-coming musicians to put out their music to thousands of listeners. [98]
Reddit Donate is "easy-to-install button that allows subreddits to raise awareness and collect money for verified nonprofits." The button links to the Reddit Donate website that contains a comprehensive list of all ongoing Reddit-inspired fundraisers. [99] Another website, Crowdtilt, was created by Y Combinator as a platform for fundraising, entirely for free excluding credit card fees. They launched a special section of the website for Redditors looking to start a campaign. [100]
Reddit helped track down an iPhone thief believed to be a TSA agent. [101]
Redditors collaborated to give one struggling father the Christmas his children wanted, but could not afford. $8,000 was raised in the form of cash, a Christmas and tree and various children's toys. Leftover money was donated to other children in need. [102]
During the 2012 mass shooting in Aurora, CO, Redditors kept an incredibly up to the minute report on the horrific incident. Victims submitted photos and updates, while Redditors informed the police and reached out for help. The thread was referred to by TechCrunch as "one of the best sources of information on the evolving story." [103]
After a video of a bus monitor being abused by students in Greece, New York surfaced on Reddit, $28,000 was raised in seven hours to send Karen Klein on vacation. She went on to form the Karen Klein Anti-Bullying Foundation. The donation number jumped to over $700,000 in support of her newfound organization. [104]
---
IV. REALITY CHECK
---
Reddit's Underground Community
It is impossible to discredit the effectiveness of Reddit's altruistic community. The proof is in the numbers. When Redditors want something done, it gets done – fast. Reddit has been the star of overwhelming praise and positive media attention since its establishment in 2005. However, there is a side to Reddit that has somewhat of a seedier vibe to it, to put it nicely. Reddit's underground community mostly flew under the radar, up until the media caught wind of some quasi-legal Subreddits relating to child porn, which had gained somewhat of a cult following. In order to understand how these communities came into existence on Reddit, it is important to examine Reddit's guidelines. Up until 2011, there were only five rules:
(1) Don't spam
(2) Don't engage in vote cheating or manipulation
(3) Don't post personal information
(4) No child pornography
(5) Don't break the site or do anything that interferes with normal use of the site
Reddit's founders insisted on a simple, easy to understand set of rules that would not hinder their users' right to free speech. Alexis Ohanian has repeatedly said on record that he does not support censorship of any kind, and will comply only with the bare minimum that the law requires. The preceding five rules are enforced by a team of over 20,000 moderators who voluntarily clean up the website.
Since there is nothing in the rules that prohibits pornography, Subreddits of a sexual nature have become extremely popular on Reddit. They are tagged with a NSFW (Not Safe For Work) label to distinguish them from the rest of the Subreddits. However, there really is no barrier to entry, except the occasional age verification, which of course, requires no reliable method of verifying one's age.
On September 30th, 2011, CNN journalist Anderson Cooper reported on r/jailbait, a Subreddit dedicated to sharing suggestive photographs of girls aged fourteen to seventeen. The underground community was targeted towards "ephebophiles," or those with a sexual attraction to "youth," not children, which translates to teenagers just below legal age. In his expose, Cooper reports, "One of them is called 'jailbait.' Just let that sink in for just a moment. 'Jailbait.'" The Subreddit's motto was "Keep a teen of the streets. Put her in your van." Anderson Cooper's reported that Reddit does not prohibit these websites, since there's no nudity involved. The jailbait community made it very clear that photos should be "suggestive," but not pornography – which would otherwise be illegal. It turns out there was nothing at all illegal about jailbait. Many of the photos were available publicly on the teenage girls' social networking sites like Facebook, Tumblr, Instagram and Twitter. The Subreddit's moderator closely monitored the page for photos of girls that appeared to be aged older than seventeen, which he would immediately delete.
"Jailbait" claimed the title of the second most common search word bringing traffic to Reddit, aside form the word "Reddit," according to Google Trends. With the recent media exposure, Gawker's Adrian Chen set out to reveal the identity of the site's moderator, known only as Violentacrez. Jokingly referred to as the "creepy uncle of Reddit," Violentacrez was also the creator of r/chokeabitch, r/niggerjailbait, r/rapebait, r/picsofdeadkids, r/beatingwomen, r/hitler, r/jewmerica, r/misogyny and r/incest; only a few of his many equally offensive Subreddits. After several email exchanges with Violentacrez and many reports on Gawker, an anonymous Redditor revealed Violentacrez's identity in an email to Chen. His name was Michael Brutsch, a father and husband from Arlington, Texas. Brutsch was a programmer by day, and "the Internet's biggest troll" by night. Brutsch pleaded with Chen not to reveal his identity, for fear that it would "ruin his life."
"I asked if he regretted anything he had posted, now that he'd be found out. No, he said. 'I would stand by exactly what I've done.' The problem was, he explained, that if his identity got out, his many enemies would start attaching lies to his name because they simply don't like his views. They would say he was a child pornographer, when all he had done was spearhead the distribution of thousands of legal photos of underage girls. They would say the fact that he created a subreddit dedicated to Hitler meant he was anti-Semitic, when really it was just trolling. (Brutsch says he's got Jewish blood himself: "If you see a picture of me, I'm about as Jewish looking as they get.") They would Google-bomb his name and the word "pedophile" along with his publicly-traded company's name."
Needless to say, Michael Brutsch was outed. He was immediately fired from his job and threatened repeatedly with death and violence. Not knowing how to handle the situation, Brutsch agreed to a follow-up interview on CNN in the hopes of defending himself. He explained that his actions were not illegal, and that he had become one of the most respected moderators on Reddit. Brutsch was even awarded the "Subreddit of the Year" prize in 2008 for r/jailbait, which is determined by a community poll. His was given the honorary "pimp hat" badge by Reddit to honor his accomplishments. He was seen as a hero for being a well-regarded proponent for free speech.
A close friend of Violentacrez said "He upheld a certain amount of freedom for the worst of us to ensure freedom for all of us." No matter how much he defended himself, it was difficult to justify the exploitation of young girls without their knowledge or against their will – no matter how noble a Redditor he once was. There were also rumors of r/jailbait being used as a front for "like-minded child porn enthusiasts" to exchange pornographic images via private message. Michael Brutsch however, did nothing illegal. His only punishment would be that of immense social stigma. The photos were in the public domain, and none of them contained nudity. He simply consolidated them into one thread. The closest he came to an apology was when he said, "Since then I have come to understand that there are situations where things are inappropriate." [106]
Gawker reported the following leaked memo posted in "Modtalk, a private subreddit for moderators and administrators":
"We stand for free speech. This means we are not going to ban legal content even if we find it odious or if we personally condemn it. Not because that's the law in the United States – because as many people have pointed out, privately-owned forums are under no obligation to uphold it – but because we believe in that ideal independently, and that's what we want to promote on our platform. We are clarifying that now because in the past it wasn't clear, and (to be honest) in the past we were not completely independent and there were other pressures acting on Reddit. Now it's just Reddit, and we serve the community, we serve the ideals of free speech, and we hope to ultimately be a universal platform for human discourse (cat pictures are a form of discourse)."
In a surprising move, Reddit actually censored all Gawker articles for a period of time after the scandal, because ironically, Gawker had violated the third rule of Reddit: revealing personal information, specifically that of Violentacrez. In response to the scandal, Reddit announced they would be implementing a "necessary change in policy." Rule 4 was to be amended: "Today we are adding another rule; No suggestive or sexual content featuring minors."
Violentacrez was also the primary moderator for r/creepshots, a Subreddit dedicated to "candid" photographs of women that aims at capturing the "raw sexiness of the subject without their vain attempts at putting on a show for the camera." [100] To avoid any rule-breaking, no "pictures near schools, nudity or upskirt shots were allowed." By October 10th, 2011, r/jailbait was shut down, and r/creepshots voluntarily taken down in an apparent "Subreddit suicide." Even then, new Subreddits identical to r/creepshots began to surface with different names, like r/candidfashionpolice. Over sixty Subreddits were shut down by February 2012. Shockingly, one of Violentacrez's proudest creations, r/beatingwomen, is still operating today.
"There's really no law that prohibits violent images in the United States. We regulate sexual content but violence is fair game." [165]
---
Censorship Is Not The Answer
How effective is Internet censorship? Does censoring one website reduce the overall "problem," whatever that may be. When one website goes down, another pops right back up. Be it on Reddit, or some new underground forum. It's difficult enough Reddit, no less the entire Internet. In a recent interview, Alexis Ohanian expressed his opinions on the Violentacrez scandal:
"There was recently this really frustrating… piece on CNN about Reddit. Anderson Cooper and his guests, none of who had actually been on the site before, which was a little disheartening because it was clear that none of them actually knew how it worked. And it was a little frustrating because you hear three pundits on a fairly influential cable news network talking about something they don't at all understand and lambasting it basically for being a platform for free speech. But it was just frustrating because there are a lot of misconceptions about the Internet as a whole, and I feel like Reddit represents a lot of the Internet at its best… I wish I had been invited Anderson, just to stare into those blue eyes would have been lovely. So here's the thing, Reddit does not actually host any of this content. All Reddit is, is a repository of links submitted by users that go to other sites on the Internet. Now, I could make the exact same indictment of Twitter. There are Twitter accounts right now that are just links to the same garbage and the same nonsense, and all kinds of vitriol, and all kinds of things on the Internet that exist because they are part of human nature unfortunately. Just like Twitter can't police this stuff… As long as what's going on is legal, there is nothing we can do to effectively police it because these things will always continue to exist on the Internet, because they will always continue to exist in humanity. What would have been a more interesting discussion… would have been to tell parents… that your kids need to know that any time they take an image and put it in a digital format, whether it is an email to one person, whether it's in a tweet, whether it's on Facebook, whether it's an MMS, they should assume that it is now public content. It is everywhere… That's the useful thing I thing CNN could have reported on instead of making up a bunch of gibber gabber about Reddit." - Alexis Ohanian
Reddit's founders created the site with a strong belief in an open Internet. There was no exception. This philosophy of openness trickled down from its creators to the users, who found immense comfort in the freedom to comment or post any content , without the worry of censorship. Reddit is fundamentally based on this idea. That's why Reddit makes it easy to create an anonymous account within seconds, with no email verification required. It is for this reason that innovative Subreddits began to surface – be it philanthropic, intellectual or just entertaining. If Reddit began to censor posts, several things would happen: (1) the site would attract fewer users and (2) fewer users would result in a decrease in altruistic initiatives. More people means better ideas, and more to give. Censorship would not put an end to pedophilia, violence or racism. It would simply redirect these users elsewhere. It's an unpleasant reality of human nature.
Humanity's devious tendencies result from complex interactions between genetics, culture, institutions, education and the like. Censorship does not eliminate desire. A slow transformation of society that emphasizes love, compassion and respect for one another has to take place in order to "clean up our act." But is that even realistic? Professor Zeynep Tufecsi of the Berkman Center for Internet & Society at Harvard University put it rather simply when she said that once censorship begins to take place, "the government will crack down, and not just on the bad things, but also put all of the beautiful and wonderful things at risk too." Tufecsi describes Reddit as "not just a cog in the machine… Reddit is the secret backbone of the Internet." For any given website that has gained at least some popularity, Redditors have upvoted, downvoted, commented, analyzed or scrutinized it behind the scenes. There are "Reddit Comments" extensions available for most major browsers, that when activated on a given website, redirect the user to Reddit's commentary on the matter. It's a universal medium for conversation, much of which is surprisingly high in quality. The discussions are democratically formed with upvotes and downvotes so that the most relevant comments organically rise to the top.
These discussions are a driver for real change. That's where movements start – from a single comment. Any effort to control this environment will only serve as a detriment to the positive qualities of an open source format, because humanity's negative tendencies will continue to exist for the time being. The Internet is too vast to control. There aren't enough people in the world to police the amount of content that circulates the Web. It's tempting to get distracted by the Internet's more vulgar aspects, and forget the wealth of good it has brought to the world.
What other model would allow people from every corner of the planet to raise hundreds of thousands of dollars for a worthy cause within just a few hours? What kind of platform could give people the opportunity to collectively share their individual strengths in order to solve a problem in real time? Only an open, public forum could provide us with this incredible power. Facebook is a big one, but does not offer anonymity. Twitter is useful for spreading information, but is not optimized for collaborative discussion. Reddit is not the only service that offers anonymous, open conversation between individuals, but it is the biggest – and that's what makes it so profound. It has become the standard for open forums. There are other services based on a similar philosophy, but frequently only cater to a niche interest, like Github, which offers open source collaboration for programming. Redditors on the other hand can congregate for any purpose. The result of this collaboration on a mass-scale can sometimes result in cat memes. Other times it can have a profound altruistic impact on society, whether it's a small donation for Christmas or a massive worldwide protest in the name of Internet freedom. This is just the beginning of a much larger, overall shift towards global collaboration to make the world a better place. Reddit is a product of this transition, not its cause. With an ever-growing user base, Reddit and similarly open communities are absolutely vital to the success of this movement.
---
RESOURCES
---
Comprehensive List of Altruistic and Supportive Subreddits
&nbsp &nbsp (Subreddits organized by number of subscribers as of December 8th, 2012)
ASSISTANCE AND CHARITABLE GIVING
16,165 subscribers

"This is a place of support. Abuse, pro-suicide comments, tough love, discussion of suicide methods, religious proselytizing, trolling or incitement to self harm or violence in a comment or PM, is strictly forbidden and can result in a ban. If you see anything like this in a post, comment or PM, please message the moderators."
3,016 subscribers

"Inspired by the famous Random Acts of Pizza, we've created a place for families to help each other this holiday. If your family's Santa needs a little help, let us know! If you want to play Santa for another family, make an offer or respond to a request! If you are looking for some random holiday cheer, this is the place for you!"
2,852 subscribers

"Want free stuff?"
2,315 subscribers

"r/food_pantry is a charitable subreddit open to Redditors with a 3+ month user age, active 3+ month user history on other subreddits, and have a verified email account with a genuine need for a meal, clothes for their kids, or basic hygienic necessities. The process is simple; Ask for food, personal and cleaning supplies, even diapers and condoms, and someone will answer your request if they find your need for assistance valid."
1,889 subscribers

"Send a card to a random child or adult, be it they're sick, needy or you just plain think they deserve it."
1,716 subscribers

"The Mentor subreddit is a place for Redditors to find individuals willing to help them to learn about something, or for knowledgeable users to share their mastery of a subject in order to find those wanting to learn it."
1,560 subscribers

"r/Loans is not a charity, and it is not a place for handouts. It is for Redditors, real members of the community, to receive short-term, small, unexpected loans from other Redditors—each of which must be paid back quickly."
430 subscribers

"This subreddit was inspired by several others in the same vein. The idea is that you can come here and share your Amazon wish list, and if Internet strangers are so inclined, they may send you gifts on or near your Birthday. This is not only for children, though you may post a child's wish list if you'd like."
343 subscribers

"Normally, a gift card would be a very blah gift. However, here a gift card is the best kind of gift! This community is for those who are in desperate need of certain items, want to surprise one another, hold contests, giveaways, and gifting. This subreddit was inspired by many of the other Random Acts subreddits."
334 subscribers

"This is not a monetary subreddit. It is however a place I have created for those who need resources in their area but do not know how to get them. Food Stamps, Food Banks, WIC, Domestic Violence, Shelters, Cribs, and Clothing."
308 subscribers

"Not sure where to shop? Try starting at some Etsy stores owned by your fellow RAoE-ers! If you own an Etsy store, let us know so we can add you to the list! While you're here, check out our birthday calendar!"
306 subscribers

"Here's what you need to know: Feel like drawing or doodling things? Use the [Offer] tag! Feel like getting something special? Use the [Request] tag. All art is welcomed, and all drawing abilities are welcomed. Have fun!"
198 subscribers

"Please make yourself at home. This is a place for all makeup lovers to gather and make friends. You don't have to gift people to hang out here, anyone is welcome! If you have any questions, please don't hesitate to ask."
Random Acts of School Supplies
107 subscribers

"Post the name of the book you have or need in the title. ISBN's are extra helpful. Find them above the bar code on the back of the book or on the copyright page at the front of the book. Alternatively, search the ISBN database for the book you need."
98 subscribers

"Xbox 360 Love."
65 subscribers

"This is Family Assistance. If you are just starting a family or have already started one, and need assistance with anything, this is the place to go. If you have anything you need, ask for it here. Also, if you have items that you no longer need or would like to offer assistance to a family in need, simply create an offer thread!
59 subscribers

"Wouldn't it be cool if someone just wanted to browse Amazon Wish Lists and maybe gift something to someone for no reason? That's what this subreddit is for. Post links to your Wish List, and link to photos of things you've received!"
49 subscribers

"Inspired by Random Acts of Mother's Day, because we can't forget Dad, this is a sub where we hope to spoil all those selfless hardworking dads who bust their butts to make a good life for their families! Got an awesome dad? Super husband? Unrelated man who has a child and deserves a memorable father's day? Here we can come together and spoil those dads! The deserve it! No one works harder than parents!"
EMOTIONAL CONSOLATION
59,760 subscribers

"This subreddit is by and for people who are Gender and Sexual Minorities (GSM), including but by no means limited to LGBT (Lesbian, Gay, Bisexual and Transgender) people, and respect for our diversity and experiences is paramount."
26,719 subscribers

"When you need to make a post for yourself, not necessarily for advice, or to answer questions, but to get it off your chest, we'll be here to listen and, if you want, to talk."
17,596 subscribers

"A free area for the discussion of issues facing those who identify as gay, lesbian, bisexual, transgender, and all other sexual or nonsexual orientations and/or gender identities. Post links to articles, self-posts, photographs, experiences and whatever else is important to your experience of queer life. We encourage you to treat others with respect, start and/or engage in robust discussion and interact with the community. The more we know each other, the better we'll get along."
7,104 subscribers

"Has something terrible happened in your life? Are things just not going your way? Have you lost a loved one? Many people have some great stories to tell about some not-so-great occurrences in their lives. This is the place to talk about it. Don't go through it alone! Talk amongst fellow Redditors who would be happy to help."
5,873 subscribers

"Break-ups suck whether you get dumped or have to dump somebody or even just split up because it's not working out. Please share your story. We can use this learn from each other's experiences. We can encourage each other. Or we can just vent or rant. We are all friends here and someone may need a hug."
5,830 subscribers

"We are often bombarded with the "ideal," and the vast majority of both women and men, do not measure up, regardless of their weight. We all suffer from a lack of perfection and comparison to genetic rarities and we all deserve to feel good about ourselves and comfortable in our skin. We welcome bodies of all shapes, sizes, abilities, and disabilities. We are about accepting yourself right now, as you are."
4,248 subscribers

"This is a self help community for those who suspect they may have issues that they need to work on. If you notice recurring problems with your relationships and suspect that you have a problem but aren't really sure yet, come in here... put your feet up and discuss it. You never know, you could be perfectly normal. Here's the place to find out!"
3,721 subscribers

"We've all had times where we've wanted to spill the beans to someone, be they bad or good, but never did or can't for whatever reasons. Post a letter here, whether it's a Thank You note or something not so happy. Letter to an ex? -- Mad at the parents? -- Roommates getting to you? -- Thankful but can't express it? This is the place to say what needs to be said."
3,594 subscribers

"Let's share our experiences in re-invention and self-healing with each other. Journal-style self-posts are highly recommended. This is a community for those who have already recognized their problems with depression, anxiety and apathy, and are ready for change. We kindly request that posts in this Reddit include an element of introspection, such as steps to counteract negative thinking. Although we understand that setbacks do happen and should be acknowledged, this is the place to discuss how you are actively working to improve yourself."
1,857 subscribers

"If you're...sad, depressed or just need a hug, you've come to the right subreddit. This is a place where you can share your own stories and help others with theirs. Feel free to also post anything and everything you find sad."
1,518 subscribers

"A basecamp from which to share news, experiences and actions to take against institutional child abuse. If you are a teen or parent who is troubled or in crisis, message the mods. We will help you find alternatives to prison camps. Are you a survivor? Are you a parent that has been fooled by the troubled teen industry? Have an idea how to save children from institutionalized child abuse? Share your stories and ideas here."
569 subscribers

"This is a place to make friends, have good conversation, hopefully enlighten others, but not a place of rescuers. Feel free to post anything that helps you with your depression. Pics, ideas, quotes, songs, inspiration videos...everything is allowed."
450 subscribers

"This is a Reddit designed to give a place for survivors of all abuse to come together to share their stories, vent, and to assist one another in healing. The only rule is to respect one another, and understand how very difficult it is to expose such a vulnerable part of one's life."
225 subscribers

"The Stand For The Silent (SFTS) program addresses the issue of school bullying with an engaging, factual, and emotional methodology. Through the efforts of Ty's father, Kirk Smalley, and SFTS director, Francie Moss, students are shown first-hand the life and death consequences of bullying."
163 subscribers

"Here to help you with you to come out! Whether you are coming out, looking to, or still out after 50 years, share your stories. It'll help others aspiring to be in your position, or warn them against it! Try to look on the bright side; a little embellishment doesn't hurt!"
92 subscribers

"A community for adults who experienced sexual abuse as children. A place to share our stories, experiences, solutions and support with other survivors who closer to our own age. We have spouses, children, full time jobs, pensions and other responsibilities that differ from our brothers and sisters in their teens and younger."
75 subscribers

"This community is for anyone who has recently or ever lost a loved one. Also, for people who are in the process of losing a loved one. Please share your stories, questions and pictures about someone you've lost or are losing."
64 subscribers

""Learning to live without" A place to share stories, ask questions or seek advice. Grief affects every person in a different way every time. Whether you are grieving the dead, a relationship, a job, a pet, a place or an era you are welcome here."
MEETING PEOPLE
2,451 subscribers

"The original creator of this subreddit was going through a very rough time in his life when he made it, but he still did his best daily to reach out to Redditors and listen to their stories. Though he eventually found he needed to leave Reddit to battle his demons, we will try our best to be here to listen to you. You are always welcome to post and talk, private message others, discuss and share in a supportive manner!"
1,502 subscribers

"Do you need someone to review your poetry, to discuss philosophy, ask advice about what to do with the girl next door? Are you stuck awake, bored in an airport, or just want someone new to talk to? If yes, then this is the perfect subreddit for you to do just that! (A) Meet other Redditors with common interests no matter how far apart they live. (B) Start conversations to get to know each other better!"
1,144 subscribers

"Subreddit for FA ladies. Virgins and non-virgins, young and old, all are welcome. Boys are allowed if they're nice. Also, this is not a competition. There are different levels of Forever Aloneness."
683 subscribers

"Forever alone? Not anymore! Post your city and find friends to chat with, meet up with in person, or whatever you want."
661 subscribers

"Feeling down? Need a new friend in your area? Want someone to go have a brew with? Have no fear, this Reddit shall supply you with more friends than you could ever possibly need. Just post your criteria and you shall get responses."
610 subscribers

"Planning, discussing, organizing adventures by Redditors for Redditors. BASE jumping, diving, urban exploration, ghost-hunting, caving, climbing, hiking, backpacking, kayaking, anecdotes about dealings with wild animals, authorities, accidents...anything and everything! This subreddit is a social forum meant to facilitate networking between adventurers of separate pursuits. Schedule meetups in your town! In your favorite adventure spot! Recruit for your next expedition!"
448 subscribers

"For now, until some actual guidelines are placed, please make sure your link title includes your city and state, and expected rent (whether you're looking to pay or looking to charge), as well as whether you have a place with a room, or you're looking for a room to move into."
425 subscribers

"Welcome to r/MeetPeople, a Subreddit dedicated to meeting new people. Whether you're lonely, looking for people with the same interests, looking for dating, or just want to chat online all are welcome!"
360 subscribers

"Just make a post, tell a little bit about yourself and whether you're looking to have a new friend to chat with, wanting to do a little flirting, or just looking to have a small conversation for the moment (perhaps out of boredom)."
203 subscribers

"At /r/anonymouspals you have an opportunity to penpal in an unique way. The idea would be to e-mail/send a letter to each other anonymously maybe once a week/fortnight. The catch will be that the e-mails/letters you send will be your own, completely inharmonious with one another. Therefore it wouldn't be so much a conversation between one another but more akin to reading someone's own life story. It seems quite counter-intuitive when seeking a pen'pal', however I'd liken it the same as growing an attachment to a character in a novel."
141 subscribers

"If you have an event, a get-together, a road-trip, a hangout or even just want to chat/play a game online, post it here! Be sure to include any relevant time/location information."
75,304 subscribers

"Do you need advice concerning your relationship with your girlfriend, wife, boyfriend, husband, friend, family member, or co-worker? We're here for you!"
MENTAL HEALTH
34,091 subscribers

"We are a self-post only community. Pictures, articles, videos and the like must be linked in a text submission that fully explains their therapeutic value. If you have something relevant to depression that is more scientific or philosophical, or which could be provocative or potentially triggering, please consider posting it instead to:"
Attention Deficit Hyperactivity Disorder
8,409 subscribers

"We cannot and will not diagnose. We are not doctors and you should not trust internet people with something so important. If you suspect you might have ADHD, please consult a trained professional. A psychiatrist or ADHD specialist will be able to help you out."
5,031 subscribers

"A Reddit to share information about who you are, how you think, and what helps you cope in life. Only text/self posts are allowed in this Reddit. Please post your desired links in the self post with a description of the link, and start a discussion around it :) Please let this sharing be constructive, informative, and polite."
1,962 subscribers

"A lot of teenagers and adults suffer with self-harm issues, or consider using self-harm as a way of coping with their struggles. Self-harming can be a very difficult habit to break, if you know someone or you struggle with self-harm get help. You are not alone."
1,385 subscribers

"The Obsessive-compulsive Disorder Subreddit (/r/OcD) is for users with a mental disorder characterized by intrusive thoughts that the person feels driven to perform, according to rules that must be applied rigidly, aimed at reducing anxiety by preventing some imagined dreaded event. However, these compulsive behaviors and mental acts are not connected to the imagined dreaded event."
Borderline Personality Disorder
859 subscribers

"A place for those with Borderline Personality Disorder. We ask that you try to be a good listener, to be empathetic, encouraging and non-judgmental with others in this subreddit."
802 subscribers

"Welcome to r/PanicParty. This subreddit is intended to be a place of help and support for those suffering from anxiety and panic disorders. Being such, we ask that everyone follows a few simple rules."
Post-Traumatic Stress Disorder
704 subscribers

"Discussion and links of interest for people who have PTSD or have friends/family/partners with PTSD. Cursing is fine, hostility will not be tolerated, trolls will be banned without mercy."
Depersonalization and De-realization
522 subscribers

"Discussion of anger, anger-management, and related issues. Although r/anger has its use as a mobilizing emotion that aids us in survival, too often it becomes a "reprehensible temporary madness" (Saint Basil) that afflicts us, controls us, and hurts those that we care about. Share your experiences with anger, whether episodic or dispositional. Discuss what provokes you to anger and what helps you to stay on track. While angry language is allowed, abusing your fellow Redditors is not. Abusive comments will be removed. Appropriate link posts are welcome, but memes and rage comics will be removed. Stay Zen."
289 subscribers

"A Reddit to share information about who you are, how you think, and what helps you cope in life. Please let this sharing be constructive, informative, and polite. Feel free to visit our friends over at: r/depression and r/bipolarreddit in case you ever need it: r/suicidewatch. Also welcome are family / friends / partner's of those who suffer from psychotic disorders."
255 subscribers

"Agoraphobia is an anxiety disorder defined as a morbid fear of having a panic attack or panic-like symptoms in a situation that is perceived to be difficult (or embarrassing) from which to escape. This is a safe place for Agoraphobics to come and find others to talk to. Since for many, leaving the home or meeting new people is difficult, this board is here for you to venture out and find some comfort. The members here are not doctors or therapists, just people out there willing to take some time to be there for each other."
RELATIONSHIPS AND DATING
27,576 subscribers

"Whether you're seeking platonic friends, non-platonic friends, online gaming partners, online friends, soul mates, travel mates, smoking buddies, groups to join, activity partners, friends with benefits [fwb] / casual encounters, etc. This is the place on Reddit to find and seek. However, we do not allow the selling of services of any kind."
Great Britain Redditor 4 Redditor
747 subscribers

"Because /r/r4r is frequented mostly by Americans, /r/GBr4r was created to provide a similar atmosphere for those seeking only to meet Redditors within the United Kingdom of Great Britain. The rules here are mostly the same as in /r/r4r, just with more British people!"
309 subscribers

"Like /r/r4r, this subreddit has its doors open to people looking for friendship, a relationship, casual hookups, activity partners, etc."
180 subscribers

"Sometimes, we all need someone to talk to. Whether your bored, stressed or would like to find a special someone to chat with, this is a place for you."
170 subscribers

"Whether you're looking for friends, partners, drinking buddies, groups to join, friends with benefits, casual encounters, or even just someone to text with. This is the place on Reddit to find people over age 30."
SELF IMPROVEMENT
241,695 subscribers

"Fittit is fun and informative, for everyone. Fittiters are expected to be respectful of others, and contribute to the fitness-centered conversation."
127,211 subscribers

"Get up and do what you know you need to do. Give and receive motivation through pictures, videos, text, music, AMA's, personal stories, and anything and everything that you find particularly motivating and/or inspiring."
25,662 subscribers

"Simple and practical wisdom on happiness, goals, relationships, meditation, and self-improvement."
24,221 subscribers

"Share your favorite social skills tips, ask for advice, or offer encouragement to others on their social skills journey. Don't forget to subscribe!"
7,800 subscribers

"Self help and self improvement. Pop Psychology. Advice on making yourself a better person, spiritually, emotionally, physically, economically, and intellectually. Learn to love your life. Or just accept it."
5,941 subscribers

"This is a meeting place for DecidingToBeBetter members to share knowledge, links, stories, experiences and comments with one another. DecidingToBeBetter motto: A force for self-improvement, goodness and togetherness that helps humanity to eliminate evil."
5,721 subscribers

"Because hibernation is for bears! For people who have a hard time getting out of bed, getting good sleep, or just want to improve their sleep—or all of the above!"
3,509 subscribers

"Advice, questions, and self-help for getting a job and keeping one. Don't wait for a job, get motivated and take the initiative. If Redditors want to reach out to other Redditors, this will not be discouraged."
1,145 subscribers

"Your time is important. You can spend money and make it back, but you can never get your time back. This a place to talk about how to manage time better, how to schedule, how to remember to do tasks and discussing ideas about efficiently using your time."
1,049 subscribers

"This is a subreddit for Forever Alones who no longer want to be 'forever alone'. /r/foreveralone is inundated with Redditors who are content with their current FA status. /r/foreveralone is about self pity, poor attitude, blame, and lack of motivation to be better in life."
412 subscribers

"A new subreddit for people to find someone to remind them to follow up on their resolutions, goals and plans. A coach is someone who can send you a gentle reminder to reach your goal, check in on how you are doing, and try to motivate you until you reach your goal. Coaches do not have to be professionals or even very knowledgeable about what you are trying to do as they are only trying to check up on you and trying to motivate you. However, people with experience and knowledge are recommended to try to pair off with someone who could use what you know."
SUBSTANCE ABUSE
13,506 subscribers

"This Reddit is a place for Redditors to motivate each other to quit smoking. We welcome anyone who wishes to join in by asking or giving advice, sharing stories, or just encouraging someone who is trying to quit."
5,117 subscribers

"This Reddit is a place for Redditors to motivate each other to control or stop drinking. We welcome anyone who wishes to join in by asking or giving advice, sharing stories, or just encouraging someone who is trying to quit or cut down."
1,867 subscribers

"A place for Redditors in recovery to hang out, share experiences, and support each other. Discuss the various ways to achieve and maintain sobriety. Everyone is welcome."
872 subscribers

"Welcome to Opiates Recovery. We're a support group dedicated to helping you kick the habit. All discussion is welcome, but please don't dwell on "war stories," as it may be a trigger for someone else."
190 subscribers

"It can be difficult translating the higher power we hear in the rooms into one that makes sense for us non-theists. Difficult, but not impossible. Lets pool our strength in this subreddit. Share our ideas about our concept of a higher power and how we use that power to recover."
---
WORKS CITED
---
[1] Inc: How Alexis Ohanian Built a Front Page of the Internet
[2] On The Verge: Alexis Ohanian Interview
[3] SeedAccelerators.com: Definition of a a "Seed Accelerator"
[4] BusinessWeek: How Y Combinator Helped Shape Reddit
[6] Wired: Reddit Gains Independence (of Sorts) From Condé Nast
[7] Wired: Condé Nast / Wired Acquired Reddit
[8] Reddit Blog: Reddit Goes Open Source
[9] Open Source Software Advisory Service: Common Public Attribution License - An Overview
[10] ZDNet: Reddit - Open Source Not Special Sauce
[11] Alexis Ohanian YouTube Channel: Reddit Goes Open Source - Message From The Alien Mascot
[12] Github: About
[13] Reddit Blog: Reddit Needs Help
[14] Penn State: Huffman, Founder of Reddit, To Speak at IST
[16] Hipmunk: FAQ
[17] TIME: The 50 Best Websites of 2011
[18] TIME: Top 10 Smart-Phone Apps
[19] TNW: A Rundown of Reddit's History and Community
[21] WSJ: Condé Nast Spins Out Reddit, Without Letting Go
[22] Forbes: An Interview With New Reddit CEO Yishan Wong
[23] Reddit Blog: Independence
[24] VentureBeat Condé Nast Spins Off Reddit. "Nothing is Off-Limits," Says Co-Founder
[25] Forbes: Reddit Names Yishan Wong New CEO
[26] CNN: The New Digg: - Don't Believe The Snipe
[27] GigaOM: Digg Redesign Met with a Thumbs Down
[28] Wired: A Digg Power User's Inside Take on the Rise and Fall of a Social Empire
[29] Alexis Ohanian: An Open Letter to Kevin Rose
[30] Reddit History Wikia: Digg Exodus
[31] BrentCSutoras: Reddit Takes Over Digg (#DiggRevolt Part 2)
[32] TechCrunch: Why Is Reddit All Over Digg Right Now?
[33] WSJ: Once A Social Media Star, Digg Sells For $500,000 To Betaworks
[34] PC Magazine: Reddit's Traffic Grew Threefold In 2010
[35] MIT Technology Review: Why Did Reddit Succeed Where Digg Failed?
[36] ZDNet: Meet The New Digg: A Pinterest For News Links
[37] Reddit Blog: Sponsored Links on Reddit
[38] Reddit (r/blog) - Now Is The Time... To Invest In Gold
[39] Reddit: About Gold
[40] Reddit Blog: Now Is The Time.. To Invest In Gold
[41] Reddit Blog: This Was a Triumph
[42] Forbes: Today I Learned - Reddit Could Be Worth $240 Million
[43] CNN Money: SOPA Explained - What It Is And Why It Matters
[44] Forbes: How Reddit's Alexis Ohanian Became The Mayor Of The Internet
[45] Reddit Blog: Stopped They Must Be; On This All Depends
[46] Digital Trends: SOPA Blackout Infographic Shows The Power of Online Activism
[47] CNET: Paul Ryan Turns Against SOPA Following A Reddit-Based Attack
[48] Reddit (r/politics): GoDaddy Supports SOPA, I'm Transferring 51 Domains & Suggesting A Move Your Domain Day
[49] Boycott GoDaddy
[50] USA Today: Glenn Beck, Sarah Palin Call For Restoring Honor At Rally
[51] Huffington Post: Glenn Beck 'Restoring Honor' Rally Delivers Religious, Not Political Message
[52] C-SPAN: Restoring Honor Rally
[53] Reddit (r/politics): I've Had A Vision And I Can't Shake It: Colbert Needs To Hold A Satirical Rally In DC
[54] The Washington Post: 'Rally To Restore Sanity' To Meet 'March To Keep Fear Alive;' Reddit Users Talk About Starting The Online Campaign
[55] Know Your Meme: Restoring Truthiness (Stephen Colbert Rally)
[56] TIME: Reddit Campaign for Colbert Rally Breaks Donation Record
[57] The Daily Show With Jon Stewart: Rally to Restore Sanity Announcement
[58] Huffington Post: Rally To Restore Sanity Attendance Estimated In Hundreds Of Thousands
[60] Random Acts of Pizza
[61] ABC News: Random Acts of Pizza - How To Donate
[62] Daily Dot: Reddit Atheists Do "Good Without God"
[63] Reddit (r/atheism): r/atheism, Exactly One Year Ago We Began To Raise Money For Doctors Without Borders. Here's A Look At Our Metrics For The 2010 and 2011 Charity Drives So Far, With Context Provided
[64] Irreverent Atheists Crowdsource Charitable Giving
[65] Reddit Users Band Together For Largest Secret Santa Ever
[66] The New York Times: Strangers On The Web, Exchanging Presents
[67] RedditGifts: Gallery - Cash
[68] Antonio Cangiano's Blog: Yes, Virginia, There Is A Secret Santa
[69] RedditGifts: Secret Santa 2012
[70] DonorsChoose: RedditGifts
[71] TechCrunch: Reddit Acquires Fan-Made Secret Santa Site, RedditGifts
[72] Digg Has Accepted Reddit's Challenge To A Fundraising Competition For Haiti!
[73] Reddit Blog: Helping Haiti (Because We Ought To Do More Than Just Change Our Logo)
[74] Reddit (r/askreddit): Where Do They Find Those Skinny Guys For Holocaust Movies?
[75] Daily Dot: The Most Famous Actor You've Never Heard Of
[76] Reddit (r/reddit.com): Homeless Man With Golden Radio Voice In Columbus, OH
[77] Know Your Meme: Ted Williams / The Golden Voice
[78] Reddit (r/wtf): All About Win. Guy Is Hilarious.
[79] GeekOSystemZach Anner - How the Internet Helped A Man (Who Can't Walk) Fly
[80] GeekOSystem: Did Team Oprah Rig a Contest Against Zach Anner? We Investigate
[81] SF Gate: "Oprah Riggs Contest In Favor Of African American" Is Spam Blog work
[82] Co.Create: How Zach Anner And Reddit Cofounder Alexis Ohanian Are Reinventing The Travel Show
[83] Daily Mail: 'I Can't Wait Until You die' - Outrage At American Couple's Breathtakingly Cruel Taunts At Terminally Ill Seven-Year-Old Girl
[84] Jezebel: Woman Who Taunted Dying Girl Ordered To Leave Neighborhood
[85] Daily Dot: How CSI Redditors Outdid The Montreal Police
[86] SFist: Help Find SF Conservatory Of Music Student's Stolen Collo!
[87] Alexis Ohanian: Wow Reddit Helps Redditor Pay For His Mom's Funeral Costs
[88] TIME: Family Raises $55,000 For Son's Bone Marrow Transplant, Thanks To Reddit
[89] The Los Angeles Times: A Terminally Ill Uncle, A Reddit Post -- Then The 'Extraordinary'
[90] Huffington Post: Reddit Donates $80,000 To Orphanage After Man Trying To Save Kids Attacked With Machete
[91] USA Today: Reddit Community Comes Together For 9-Year-Old In Need
[92] ABC News: Family Court Judge Caught Beating Ill Daughter On Videotape
[93] Reddit Blog: Reddit & Xkcd Fundraiser Pulls 3K For EFF
[94] Reddit Blog: Redditors Help Unite A Family - A Special Mother's Day Follow-Up
[95] Open Salon: Reddit.com Helps My Famly, Big Time
[96] Reddit Blogspot: Flowers For Helen Thomas - The Reddit Community Pitches In To Thank A Journalist For, Well, Doing Her Job
[97] Lewiston-Auburn Sun Journal: Elan School Closing After Web Campaign To Shut It Down
[98] Daily Dot: Can Radio Reddit Find The Next Big Thing In Indie Music?
[99] Reddit Donate
[100] Crowdtilt: Reddit
[101] Daily Dot: Redditors Save Stolen iPhone, Help Arrest Airport Thief
[102] Daily Dot: How Reddit Saved Christmas For A Father Of 4
[103] TechCrunch: Reddit Transforms Into Incredibly
[104] Jalopnik: How The Internet Rallied To Help A Verbally Abused Bus Monitor
[105] Gawker: Unmasking Reddit's Violentacrez, The Biggest Troll on the Web